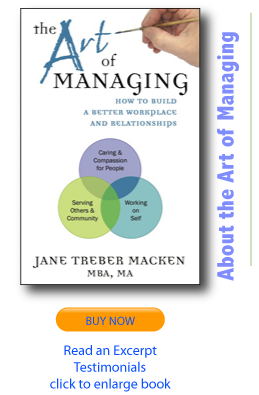 The Art of Managing…How to Build a Better Workplace and Relationships will show you how to be a better leader—a better team player—START TODAY!
At last, a book that bridges the worlds of business and psychology!
An easy-to-read history of management theory, leadership, and organizational effectiveness

Develop three key attributes to successfully manage your work and personal life

Usable tools for forming effective teams and motivating people to action!

Read an excerpt from The Art of Managing click here
Read what people are saying about The Art of Managing click here
"The Art of Managing is a handy summary of management and psychological theories and tools related to modern business organizations illustrated with views from leaders of successful corporations, and Jane's business and per sonal experiences and philosophy."
—Richard A. Draeger, Vice President (ret.)
Pacific Gas and Electric Company